Next Generation, Smart & Easy, WebHosting, Domains, and Digital Services Automation system. No Monthly Fees, No Hidden Charges, and No Encryptions. comes for a lifetime at an affordable price. WHMLab comes with all the essential features required to automate your WebHosting business globally. It allows creating web hosting accounts with ease and allows the management of the hosting services. comes with automated connections with groups of servers, cPanels, Namecheap, Resellbiz/Uk2Group and more are coming. It's a next-generation web hosting and domain solutions automation software that automates users, payments, billing, client management, support services, and other core services.

Security is our first priority, and our system is protected by strong layers of security. we keep OTP, 2FA, Email, and SMS notifications to make our system more advanced. There were a total of 370.7 million domains registered across all top-level domains, while the total number of well-known web hosting services providers is over 330,000. WHMLab is a groundbreaking hosting provider automation system. Built from the core by industry experts to power your hosting company or domain hosting reseller business. It has been developed to enable all individual and corporate organizations to operate web hosting Businesses.


Demo Access:
Frontend:
https://script.viserlab.com/whmlab
Backend:
https://script.viserlab.com/whmlab/admin
Why Choose WHMLab?
Automated Connection with CPANEL. Auto cPanel Account Creation
NameCheap, ResellBiz/Uk2Group Automation for Domain Registration
Google Analytics, Recaptcha, And LiveChat Included
Company Configuration and Content Management
Tasks Automation And domain register Configuration
Manage domain/TLD setup, and configurable groups
20+ Payment gateways, configurable service category
Configurable server groups, Setable invoice generation days
Setup default domain register And Primary server
Setup profile information And NameServers
Inside WHMLab?
- Premium And Secure Dashboard
- Clients Management
- Payments Management
- Orders Management
- Invoices Management
- Cancellation Management
- Support Ticket Management
- Report Management
- System Setting
- Manage Templates
- Manage Section
- Banned Page Management
- Announcements Management
- Contact Management
- Domain Section Management
- FAQ Section Management
- Footer Section Management
- Invoice Address Management
- KYC Content Management
- Policy Pages Management
- Service Section Management
- Subscribe Section Management
- General Settings
- System Configuration
- Billing Settings
- Service Categories
- System Configuration
- Payment Gateways Configuration
- Server Groups Configuration
- Servers Configuration
- Domain Pricing/TLDS Configuration
- Domain Registers Configuration
- Products/Services Configuration
- Coupon Configuration
- Orders Configuration
- Invoices Configuration
- Logo & Favicon Management
- Extensions Management
- Language Management
- SEO Manager
- KYC Setting
- Subscribers Management
- Maintenance Mode Management
- GDPR Cookie Management
- Custom CSS Management
- System Information
- Notification Setting
- Cancellation Requests


Automation Inside?
- Cpanel Automation
- NameCheap Automation
- ResellBiz Automation
- Fiat And Crypto Automation

Changelogs
Version 1.2 – 31st July 2023
[ADD] BTCPay payment gateway
[ADD] NowPayments payment gateway
[ADD] Checkout payment gateway
[ADD] TwoCheckout payment gateway
[ADD] Group basis client notification system
[ADD] Generated full language key of the system
[ADD] Update uploader
[ADD] Smart cron manager
[ADD] Automatic database creation in installer
[ADD] Cart system without login
[ADD] Tax setup on invoice system
[ADD] Staff management
[ADD] Client add option from admin panel
[ADD] Domain & Service list from admin panel
[FIX] Authorize gateway sandbox issue
[FIX] Admin profile image upload issue
[FIX] Admin panel order chart problem solve
[PATCH] Domain module code optimize
[PATCH] Gateway credentials security
Version 1.1 – 16th February 2023
[FIX] Logo, Favicon uploading preview issue
[FIX] Invalid link on Order Notification Email Template
[ADD] keyword searching issue while searching new domain
[ADD] Detect unknown TLD
[PATCH] Domain search optimized
Built for the future
- Using the best, future-proof, and secure stack known to the world: Bootstrap, Laravel framework, jQuery.
What will you get along with this script?
- Full Source Code
- Project Documentation
- Full Project Database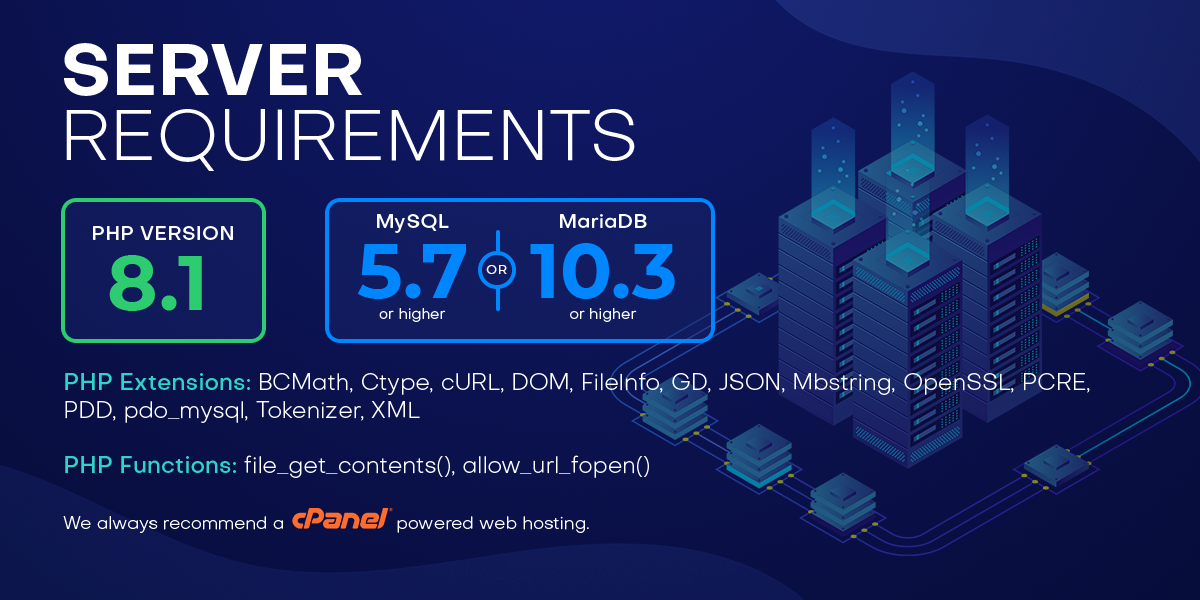 Support Facility:
Please send us any of your questions or query like presale queries, after-sales support requests, customization requests, and any other queries to:
https://viserlab.com/support
NOTES:
We are an exclusive author here at Envato market and all of our items come with an Envato license. We write each line of code by maintaining security, if you use an unauthorized version and face any issues/errors or face any security issues then we are not responsible for that. Before purchasing, please check our demo, you will get all the same functionalities as our demo has.