LocalCoins, a professional Peer To Peer Crypto Exchange system. It's developed for those people who want to start their Crypto Exchange Escrow System. There are currently 18,869,543.75 bitcoins in existence. This number changes about every 10 minutes when new blocks are mined. Right now, each new block adds 6.25 bitcoins into circulation. Now as of 2020 there is an average of 29,566 successful trades per day done by only LocalBitcoins. Here, Users join directly by using the registration page, they can use the Localcoins user panel to create Buy or Sell crypto exchange Trade. Others users can Sell or Buy currencies with him by using escrow features. The whole trade is managed by the site owner and the site owner will earn from exchange/trade charges.

If are you looking for a Peer Peer Crypto Exchange system for your business, then you are in the right place. No need to pay thousands of dollars to hire developers to build your Currency Exchange Website. LocalCoins may assist you to handle unlimited users, Currencies, Advertisements, Trade, Escrow, and able to accept payment via cryptos. The ready-to-go solution takes only a few minutes to set up your application with our system. We are also here to provide you best support, installation, and customization if you need it. hurry up, get your copy and start your Peer to Peer Crypto Exchange application.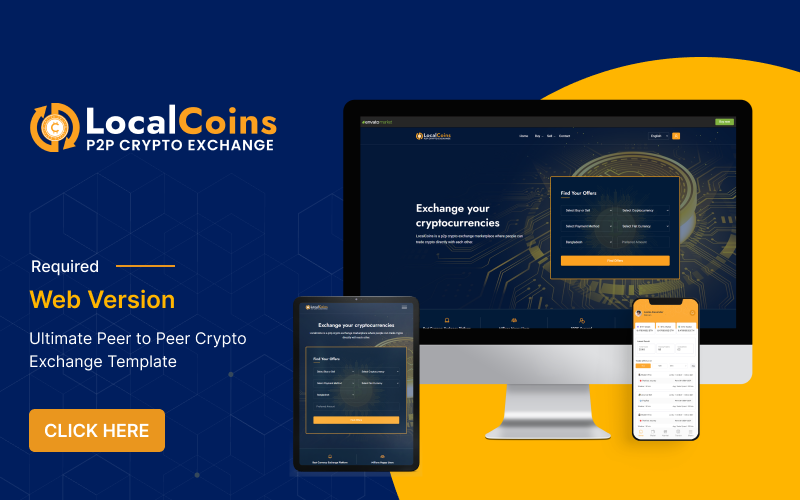 Demo Access:
Demo APK:
Download Now
Admin Access:
https://script.viserlab.com/localcoins/admin
Highlighted Features
Number 1 Peer to Peer crypto exchange platform with escrow
Multiple Cryptocurrency support
Multiple Fiat Currency Support
Secure Trading system
Push notification system
Real-time p2p chatting system on trade
KYC Verification
Two Factor Authentication
Email and SMS Verification
Creating offers/advertisements
Location base offer/advertisement filtering
View the Advertiser's public profile
Review/feedback on completed trade
Deposit and Transactions History
Easy and efficient Withdrawals system
Referral System, etc.
Why you should buy this App?
- Easy to Install/Setup
- Clean and simple app
- Easy to make advertisement/offer
- Easy to make the trade
- Well documentation
- Easy to customization
- Premium and quick support
- Regular updates facilities

Requirement
-
LocalCoins
web application with a valid purchase code.
- Flutter and Dart to your device.
Changelogs
Version 2.1 – 10th March 2023
[ADD] Showing user's crypto wallets balance in equivalent USD in user dashboard.
[ADD] Lock screen
[FIX] Some minor issues
[PATCH] Performance optimization
[PATCH] Compatible with Flutter 3.7.1
Version 2.0 – 24th January 2023
[ADD] two-factor authentication
[FIX] Firebase push notification issue.
[FIX] some minor issues
[PATCH] Improvements in dashboard and notification UI
[PATCH] Performance optimization
[PATCH] Code refactored for re-usability
[PATCH] Compatible with Flutter 3.3.10
Push to App Store & Play Store
Read the documentation to publish the app to App Store & Play Store
- PlayStore:
https://flutter.dev/docs/deployment/android
- AppStore:
https://flutter.dev/docs/deployment/ios
Built for the future
Using the best, future-proof, and secure stack known to the world: dart, flutter.

What you will get?
- Full Source Code
- Project Documentation

Support Facility:
Please send us any of your questions or query like presale queries, after-sales support requests, customization requests, and any other queries to:
https://viserlab.com/support
NOTES:
We are an exclusive author here at Envato market and all of our items come with an Envato license. We write each line of code by maintaining security, if you use an unauthorized version and face any issues/errors or face any security issues then we are not responsible for that. Before purchasing, please check our demo, you will get all the same functionalities as our demo has.