MineLab is a crypto mining flutter mobile application(Android &IOS) that comes with the "MineLab-Cloud Crypto Mining Platform" CMS. Worlds are becoming cashless and crypto is becoming more popular day by day. It's an $8 billion industry currently. A lot of people are now interested to run their cloud mining platform, some datacenter who has a lot of mining tools are interested to connect those online so that's can peoples able to invest there. We got hundreds of requests to develop such items and we collect ideas from some popular cloud mining platforms: genesis mining, shamining, hashshiny, iqmining. Minelab is ready to use mobile application for the business owner who wants to run and promote their next crypto-mining business flawlessly.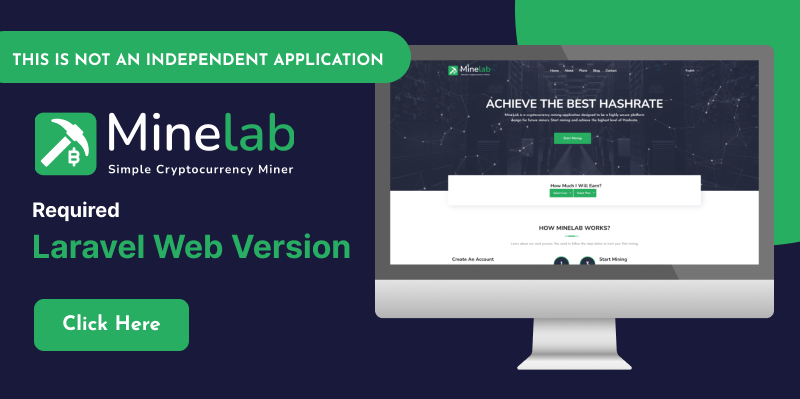 MineLab is a well-architect, powerful, secure, well-optimized, and responsive mobile application(Android & IOS) that comes to satisfy all mining platform owner needs. If are you looking for a complete crypto-mining mobile application, then you are in the right place. No need to pay thousands of dollars to hire developers to build your crypto-mining platform. MineLab takes only a few minutes to set up your own mining platform. We are also here to provide you best support, installation, and customization if you need it. Hurry up, get your copy and start your business today.

Why you should buy this App?
- Easy to Install / Setup..
- Clean and simple app
- Well documentation.
- Easy to customization.
- Modern and Light Theme
- Premium and quick support.
Requirement
-
MineLab
web application with a valid purchase code.
- Flutter and Dart to your device.
Push to App Store & Play Store
Read the documentation to publish the app to App Store & Play Store
- PlayStore:
https://flutter.dev/docs/deployment/android
- AppStore:
https://flutter.dev/docs/deployment/ios
Built for the future
Using the best, future-proof, and secure stack are known to the world: dart, flutter.
Demo Access:
Demo APK: Download Now
Admin Access: https://script.viserlab.com/minelab/demo/admin


Changelogs
Version 1.1 – 17th April 2023
[FIX] Withdraw page min-max issue
[FIX] Mining track page return/day issue
[FIX] Direct payment gateway file upload issue
[PATCH] Improved home screen design
[PATCH] Improved overall design for a more modern and visually appealing look
[PATCH] Ensured compatibility with Flutter 3.7.10
What you will get along with this project?
- Full Source Code
- Total Project Documentation

Support Facility:
Please send us your product presale query, after sales developer support request, customization project, and any other queries to here:
https://viserlab.com/support
NOTES:
All of our items come with an Envato license. we code each line by maintaining security, if you use an unauthorized version and face any issues/errors or face any security issues then we are not responsible for that. before purchase, pls check our demo, you will found the same as our demo has.