MLMLab, a professional Multilevel Marketing Solution that comes with PHP Laravel. It's developed for those people who want to start their Multilevel business website. globally, 60 million people work as network marketers & 36.6 million customers have bought products/services from the network marketing model. It's an industry and here today we keep our footprint on this industry with our MLMLab, a complete solution for multilevel marketing business. here, marketers and users can join via a referral system, by using an upline username, can manage their downline, able to choose plans, earn referral commissions, withdraw their earnings, and more.

Are you looking for a complete MLM solution system for your business, then you are in the right place. No need to pay thousands of dollars to hire developers to build your MLM Website. MLMLab may assist you to handle unlimited downlines, able to accept payment via cards, cryptos, and mobile money. the ready-to-go solution, it takes only a few minutes to set up your website with our system. we are also here to provide you with the best support, installation, and customization if you need it. hurry up, get your copy and start your network marketing website.


Demo Access:
Frontend:
https://script.viserlab.com/mlmlab
Admin Access:
https://script.viserlab.com/mlmlab/admin

Highlighted Features
Support modern browser and cross-browser compatibility.
Strong and powerful admin interface.
A clean and modern user interface.
Multiple size ad posting forms.
20+ Payment Gateway and 250+ currencies setup.
Functionality is Simple and all Dynamic Features.
Easy Documentation.
Regular updates facilities.
Premium and quick support.
User Dashboard Features
- Responsive Design (Work with all devices).
- Well Decorated Home & Inner pages.
- Subscription Facility.
- Latest blogs & announcement.
- Secure Registration with referral selection.
- Plan choose and Subscription.
- BV Log.
- Referrals manager.
- Binary Tree.
- Binary Summery.
- Deposit / Add fund.
- Withdrawal Option.
- Balance Transfer.
- Reports / Logs.
- Transactions Log.
- Deposit Log.
- Withdraw Log.
- Invest Log.
- Referral Commissions.
- Binary Commission.
- 2FA Security.
- Online Support desk.
- Profile manager.
- Login History Checkup.
- And more….


Admin Features
- Plans Creation & manage.
- Users Handle & manage.
- Deposits & Gateway Settings.
- Withdrawals Management.
- Support Tickets Desk.
- Subscribers Manage & Marketing.
- General Setting.
- Logo Icon Setting.
- Extensions & Plugins.
- Language manager.
- SEO Manager.
- Notice management.
- Email Manager.
- SMS Manager.
- FRONTEND MANAGER.
- Manage Templates.
- Manage Pages.
- Section Manager.
- Blog Creation & Management.
- FAQ Manage.
- Social Media Linkup.
- TOS & Testimonial settings.
- And more….

Changelogs
Version 2.5 – 25th June 2023
[ADD] Cron Job Control System
[ADD] E-PIN Recharge System
[ADD] User Ranking System
[ADD] User Ranking System
[PATCH] Optimize Code
Version 2.4 – 24th May 2023
[ADD] BITPay Payment gateway added
[ADD] NOWPayments payment gateway added
[ADD] 2Checkout payment gateway added
[ADD] Checkout payment gateway added
[FIX] Plan Page issue
[FIX] Database Issue
[PATCH] Code Optimization
Version 2.3 – 04th May 2023
[FIX] Plan purchase issue
Version 2.2 – 17th January 2023
[FIX] Root/First user added
Version 2.1 – 3rd January 2023
[FIX] Default reCaptcha enable issue
Version 2.0 – 28th November 2022
[ADD] Strong Reporting
[ADD] Controllable language system
[ADD] Maintenance Mode
[ADD] Cookie Policy
[ADD] KYC Verification
[ADD] Force Secure Password
[ADD] Agree Policy at Registration Page
[ADD] Force SSL
[PATCH] Admin UI/UX
[PATCH] Bootstrap 5
[PATCH] Laravel 9
[PATCH] PHP 8.1
Version 1.1 – 24th May 2021
[FIX] Full Script cross check done
[FIX] Cronjob issue Solve
[PATCH] Latest Laravel Security Patch
Built for the future
Using the best, future-proof, and secure stack known to the world: Bootstrap, Laravel framework, jQuery.
What will you get along with this script?
- Full Source Code
- Project Documentation
- Full Project Database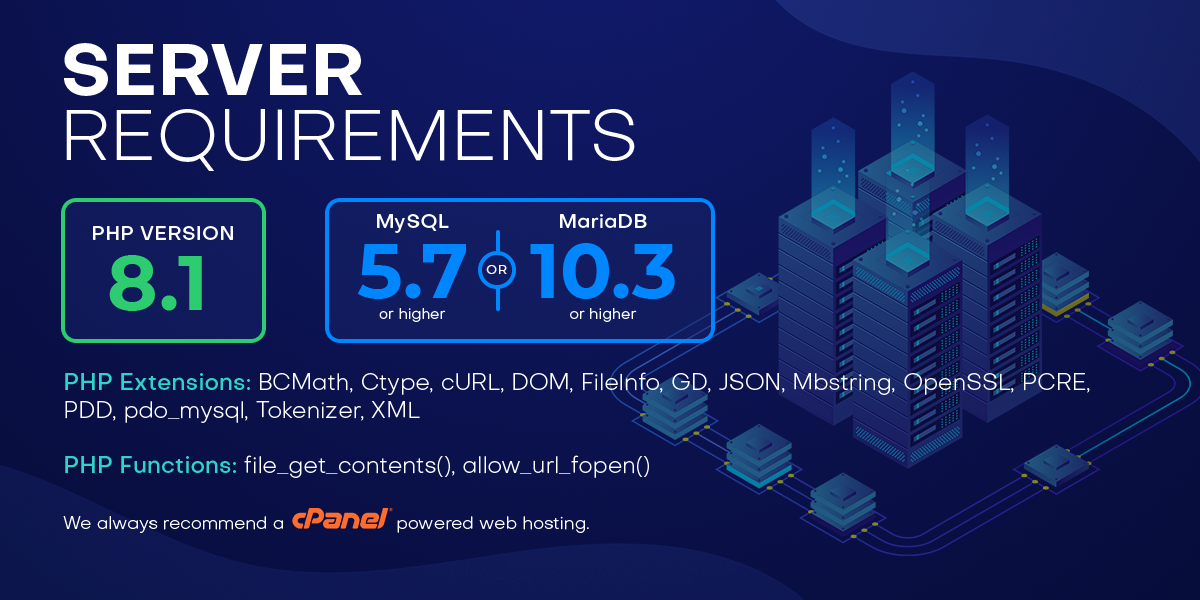 Support Facility:
Please send us any of your questions or query like presale queries, after-sales support requests, customization requests, and any other queries to:
https://viserlab.com/support
NOTES:
We are an exclusive author here at Envato market and all of our items come with an Envato license. We write each line of code by maintaining security, if you use an unauthorized version and face any issues/errors or face any security issues then we are not responsible for that. Before purchasing, please check our demo, you will get all the same functionalities as our demo has.