ViserStock, is a simple and professional microstock marketplace system that comes with PHP Laravel. It's developed for those people who are interested to create their own microstock marketplace or who want to sell their photos or microstock services. North America will account for 44% of market growth. The two biggest stock image markets in North America are the US and Canada. Shutterstock is one of the most well-known stock image collection sites, offering users over 250 million high-quality, licensed photos and adding an impressive 200,000 more per day.

If are you looking for a complete microstock marketplace solution system for your business, then you are in the right place. No need to pay thousands of dollars to hire developers to build your microstock marketplace Website. ViserStock, may assist you to handle unlimited photos, users, downloads, reports, and more. the ready-to-go solution, it takes only a few minutes to set up your website with our system. we are also here to provide you best support, installation, and customization if you need it. hurry up, get your copy and start your business today.


Demo Access:
Frontend:
https://script.viserlab.com/viserstock
Reviewer Panel:
https://script.viserlab.com/viserstock/reviewer
Admin Panel:
https://script.viserlab.com/viserstock/admin

System Overview
Both Premium Admin and User templates.
Subscription system, 20+ payment gateways automated.
Unlimited Plans and packages creations facilities.
Unlimited Accounts creations, levels, badges, and Earning facilities.
Language Maager, Pluigins, GDPR and more.

Frontend Features
- Advance Dashboard.
- Collections Management.
- Download History.
- Manage Images.
- Pending images.
- Rejected images.
- Approved images.
- All images Management.
- Finances Management.
- Deposit Management.
- Deposit History.
- Withdraw Management.
- Withdraw History.
- Transactions Management.
- Earning Logs.
- Referrals Management.
- Referral Log.
- Account Management.
- Support Tickets.
- Profile Settings.
- 2FA Security Management.
- Upload Image Management.
- Images Management.
- Followers & Followings Management.
- Collections Management.
- And More…

Backend Features
- Advance Admin Dashboard.
- Manage Reviewer.
- Category Management.
- Manage Colors.
- Predefined Reason Management.
- Manage Plan.
- Manage Users.
- Manage Images.
- Payment Gateways Management.
- Deposits Management.
- Withdrawals Management.
- Support Ticket Management.
- Report Management.
- General Setting.
- System Configuration.
- Logo & Favicon Management.
- Storage Setting.
- Social Credentials Management.
- Extensions Management.
- Language Management.
- SEO Manager.
- KYC Setting.
- Notification Setting.
- FRONTEND MANAGER.
- Manage Templates.
- Manage Pages.
- Manage Section.
- Collection Management.
- KYC Management.
- Policy Pages Management.
- Maintenance Mode Management.
- GDPR Cookie Management.
- System Management.
- Custom CSS Management.
- And More…


Changelogs
Version 1.3 – 30th March 2023
[ADD] Sitemap XML system
[ADD] Digital Ocean cloud storage
[FIX] Color code show issue
[PATCH] Resource upload with progress bar
[PATCH] Updated to the latest Laravel security patch
[PATCH] Updated to the latest system version
Version 1.2 – 18th February 2023
[ADD] Wasabi storage integrated
[ADD] Controllable invoice system
[ADD] Call to action section for sellers
[FIX] W3C validation
[PATCH] Admin panel category, color, etc filter
[PATCH] Language position changed
[PATCH] Maximum price for image upload.
[PATCH] Admin dashboard card re-arranged
[PATCH] Updated to the latest Laravel security patch
[PATCH] Updated to the latest system version
Version 1.1 – 28th December 2022
[FIX] Search page error
[FIX] MySql strict mode error
[FIX] MySql reserved keywords issue
Built for the future
Using the best, future-proof, and secure stack known to the world: Bootstrap, Laravel framework, jQuery.
What will you get along with this script?
- Full Source Code
- Project Documentation
- Full Project Database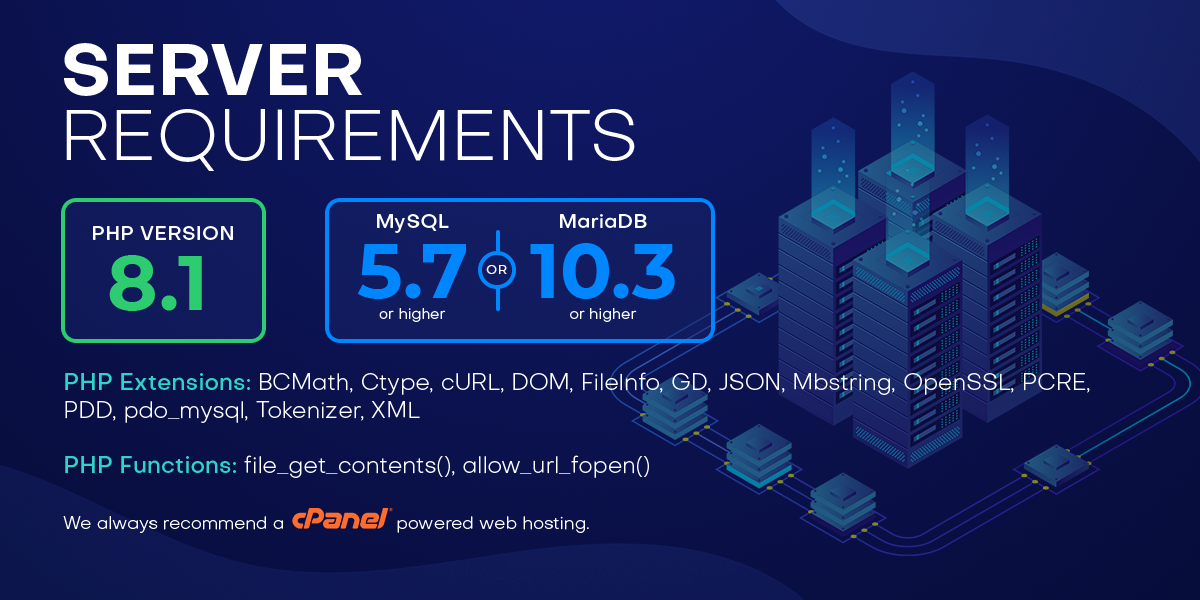 Support Facility:
Please send us any of your questions or query like presale queries, after-sales support requests, customization requests, and any other queries to:
https://viserlab.com/support
NOTES:
We are an exclusive author here at Envato market and all of our items come with an Envato license. We write each line of code by maintaining security, if you use an unauthorized version and face any issues/errors or face any security issues then we are not responsible for that. Before purchasing, please check our demo, you will get all the same functionalities as our demo has.